The Perfect Dish: A guy with both sizzle. . .and heart.
It's almost time for the much-anticipated release of
the Perfect Dish novels Wedding Book.
Are you ready to catch up with Julia, Jesse, Ava and Liam?
For a limited time, the first book in the series is FREE.
is up for grabs on all venues, abso-tively free.
So your assignment?
Go grab BEST SERVED COLD, and while you're there,
Of course, what's a wedding without a bridal shower?
Join us here tonight at 8 PM EST on Facebook and Twitter (#ICYShower)
as we play games, give prizes and talk about I CHOOSE YOU.
Don't forget to bring your virtual gift. . .every couple needs a toaster!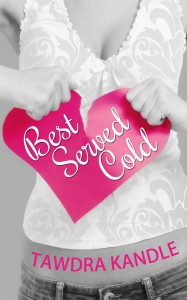 Julia worked for weeks planning the perfect surprise birthday party for her boyfriend, Liam, but that night, she was the one who got the biggest shock. He broke up with her in front of all their friends, humiliating her in the process.
Clearly revenge was in order.
The plan is simple. Make him jealous, win him back, and then crush his heart. Fair is fair. However, there is one little hiccup, and he has curly brown hair and dimples.
Jesse is everything she wants. With him, she could almost forget her bruised heart. Almost. Julia has one choice: let Liam walk away after everything he did, or lose a chance at love in pursuit of payback.
When her friend Julia needed help forming a revenge plan against her ex-boyfriend, Ava was happy to lend a hand. She never expected that in the course of making Liam pay, she'd be the one to fall hard. . .for the one person who was absolutely off-limits. Crushing on the guy who humiliated her best friend is definitely against the girl code.
Besides, Ava has goals. Her life is all about graduating with honors and landing the perfect job. And Liam Bailey—sweet-talking, complicated son of a well-known local politician—isn't part of those plans.
But Liam doesn't give up easily. And he doesn't intend to let their friends' opinions, his parents' disapproval or Ava's past get in the way of what he wants–Ava's heart.

The path of true love was a bumpy one for Ava and Liam. He was her best friend's ex-boyfriend, son of a local politician and the campus playboy. She was a hard-working, single-minded scholarship student with no time for romance. They were the couple least likely to succeed.
But almost two years later, love is better than ever. Liam's pursuing his dream of being a college professor, and Ava's the rising star at a local ad agency. But Liam still has one more goal: marrying the girl who changed his life.
Neither of them realizes that making it to the big day might be their greatest challenge yet. Between his parents' acrimonious divorce and her family's ideas of how to plan the perfect wedding, it'll take the strength of their love—and a little help from their friends–to see them through to happily-ever-after.
Tawdra Kandle writes romance, in just about all its forms. She loves unlikely pairings, strong women, sexy guys, hot love scenes and
just enough conflict to make it interesting. Her books run from YA paranormal romance (THE KING SERIES), through NA paranormal and contemporary romance (THE SERENDIPITY DUET, PERFECT DISH DUO, THE ONE TRILOGY) to adult contemporary and paramystery romance (CRYSTAL COVE BOOKS and RECIPE FOR DEATH SERIES). She lives in central Florida with a husband, kids, sweet pup and too many cats. And yeah, she rocks purple hair.
Follow Tawdra on Facebook/Twitter/Pinterest/Instagram
Visit her Website and subscribe to her Newsletter for special content and giveaways!