Welcome to the Winner Wonderland Giveaway Event. This event is hosted by Taking Time for Mommy, Put A Little Umbrella In Your
Drink, Seeds of Life, And The Little Ones Too
This event features giveaways with a value of $25 or more at each of the participating blogs! Check out all of the great Winner Wonderland Sponsors being featured in this event! Be sure to visit each blog from the linky below and enter for your chance to win! This event will
close on December 4th at 11:59 pm EST.
Taking Time for Mommy has Prizes equaling $350 for ONE Lucky Winner!!
Project Iris Clothing –A woman's true beauty can be measured by her compassion for the world around her. When you buy Project Iris, a portion of each sale is used to provide nutritious meals to mothers and their young children in the developing world. When you wear Project Iris, you spread a message of giving and hope that is reflected through vibrant original artwork and sophisticated fashions produced responsibly in the USA.
In honor of our commitment to fighting world hunger, Project Iris has made an initial donation to the World Food Program USA, the world's largest humanitarian organization. This donation will provide 12,500 nutritious meals to new mothers and their young children in the developing world. Join Project Iris and be a part of something special. Project Iris . Cause Fashion
Win a t-shirt of your choice.
Value to up $53 value for the long sleeve t-shirts
Check out the shirts HERE
McNeill Designs for Brighter Minds Games  $84 Value– In our Holiday Gift Guide HERE

This sentence-building game uses unique five-sided cards with multiple conjugations of a base word. With a hand of 10 cards, players try to score the most points per round by constructing the longest, grammatically correct, and sensible sentence. Any player can object to another players sentence, on either grammatical grounds, or the fact that the sentence just doesn't make sense. The defending player and the objecting player get to argue their points to the rest of the players, who form a jury. Half the fun is trying to defend, explain, and justify a completely ridiculous sentence to the other players. First player to reach 200 points wins. McNeill Designs has  5 add on decks  too! ONLY $25 Also get the 5 Add on Decks, Twisted Fish and The Wheel of Chorture! 
Visit McNeill Designs to Buy these fun Games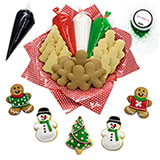 Cookie By Design Decorating Kit $29.99
Their  Christmas decorating kit is a great craft for entertainment at any holiday party. If you're in need for a great party favor, why not treat your guests with their own personally hand-decorated cookie favors! This Christmas Decorating Kit comes complete with three festive icing colors and ten assorted cinnamon brown sugar gingerbread men.
Trust me they are FUN and DELICIOUS!!  Buy your own decorating kit HERE We had so much fun with this . We are adding it to the Holiday Gift guide this week and will show pics of our fun! (Best part – They were delicious and I didn't have to bake!!)

NOVICA– Home Decor, Jewelry, Apparel and more $75 Giftcode NOVICA promotes artisans from around the world. They are even in association with the National Geographic and have an incredible program where WE can give loans to artisans from third world countries to start their own businesses. It's an amazing company! They have unique presents for every one on your list.
Author LK Rigel is offering up 4 of her ebooks! I have read them all and they are AMAZING!
Click on the books to view and Buy
 http://extravagonzofoods.com is giving our winner their choice of 6.8 oz bottle of their Gourmet Oils! $13 Value
Roasted Garlic – Nothing like it in the world. They infuse the EVOO with roasted garlic for a robust and aromatic finish. Mouth watering for dipping and a delicious addition or substitution in almost any dish you can imagine.
Meyer Lemon Infused Culinary Oil – They press the EVOO with Meyer Lemons for a bright, fresh citrus finish. Works well with all of your seafood dishes and many other creations as well.
Blood Orange Infused Culinary Oil They press the EVOO with Blood Oranges for a tangy, sweet finish. Fabulous over ice cream and in baked goods.
Red Chili Infused Culinary Oil – They steep dried red chilis in the EVOO, creating a robust oil with a mildly sharp finish. Add some zing to your regular dishes and snacks, such as popcorn!
  LaVaque Crystal Embry Board from

LaVaque Tweezers
$15 Value
Barron's Educational Series is an amazing online book store. That has book on crafts to movies, to children's activity books. They are giving away a sets of their amazing Creativity book Sets!!  If you can't wait, don't worry you can buy them separately and check out all of their fun educational books here
Check out all of their Creativity books in the set here and enter for another chance to win
$35 Value
$24.99 Toys R Us
 Light up the night with DUB Garage Blazerz! This one is all about the light show – headlights, tail lights, underglow lights, hood scoop lights, and even a light-up vehicle interior that shows a dramatic cityscape through the windows! Signature DUB Edition vehicle styles are fitted with motorized forward and reverse driving action, great music, realistic vehicle sounds and fun vocal phrases. But, the star of this show is the lights. Lights, lights, and more lights! Turn on the hip hop beats and watch Blazerz glow! Ages 6+ My daughters love this! Find more great trucks and cars HERE
 Amazing Prize pack isn't it?  Want to win? Fill out the form below.
Enter the others in the hop